Why support BEM?
A Story of Faith and Compassion
BEM's masterminds who firstly reached the region in 1967 longed to preach the gospel in a non protestant village. As soon as they became familiar with the difficulties families passed through, they realize that more than words, the inhabitants of many villages in the countryside of Minas Gerais needed to see love through actions. They needed to be fed and empowered in order to reach their own families' sustainability.
We've helping families and fighting child poverty since 1973. Over our 40-plus year history, BEM has invested its resources in services that assure access to Daily Meals, Education, Medical and Dental Care for children and their families. Currently, we've attending over 1000 children, teenagers and their family members at BEM projects. We are also providing  over 400 meals a year, besides several workshops to parents, pedagogical training to our Educational Team and courses that are open to the entire community.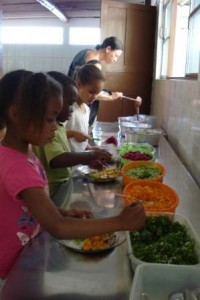 Knowledge and Networks
From the origins on, BEM has established relationships around the world.  We know and work with local communities,institutions and people in power in order to bring social and economic change into communities. The change process occurs globally and welcomes social actors from all over the world. Over the years, we've counting on the contribution of international Researchers, Churches Members, Volunteers, Local Government, Community Associations etc.
Millenium Objectives
BEM contributes so that the MILLENIUM OBJECTIVES are reached in the regions where its projects and actions are present.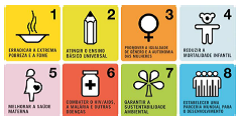 Through BEM Contributions…
You can change a entire community for the better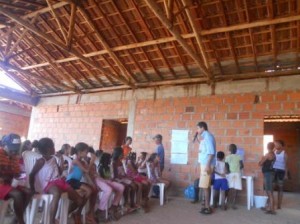 BEM and its partners are committed on changing people's lives for the better. Everything planned to be accomplished, every new partnership aims to provide chances of life improvement for the beneficiaries, which reaches as a consequence, whole communities.
Historically, that happened at all villages where we are present. The social situation of these villages have been impacted and BEM took part in the process.
Brazilian economy has changed, but a sizable portion of its riches don't reach poor areas. We have a lot of work still to be done and you can be part of it. Currently one of the great stories that involve partners becoming Life Changers is the love story of Chapin Baptist Church and BEM in Rio Vermelho Town. A very poor area in this village, Chapadinha, has been impacted by the love and care of this church members.  The inhabitants' life perspective has improved, but there are a lot still to be accomplished. We need volunteers, we need resources, we need you on our side fighting poverty and providing equality.
You can be as involved as you'd like to be
You can become a donor and gave us a gift according to your will. It can be done in two ways. You can choose between becoming a Friend of BEM or Funding a Village. In response to your sweet wish of sponsoring BEM projects, we will get you updated about the project progress and the results that are being reached. For additional information about how to become a sponsor, click here.
You can become a volunteer and with your own hands contribute with life changing process. We often receive visitors who desire to help in the projects or actively participate in the daily and cultural activities at one of the villages. For additional information about Volunteer Work, click here.