World Health Day 2014
Annemarie Voorsluys, student International Change and Project Management, specialization Public Health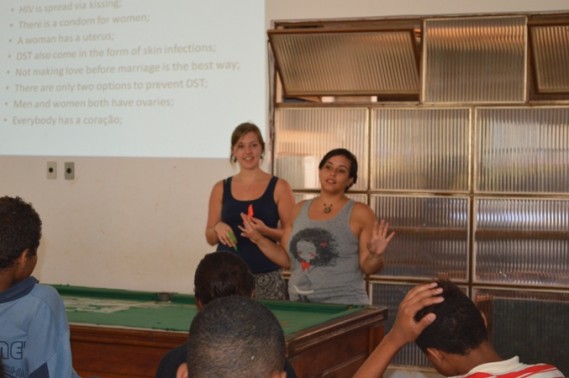 Currently, my brother and me are staying in Sabinopolis, Brazil, and I am giving health classes about sexual health, and when possible about nutrition and hygiene. The World Health Day has been a concern for me, since it is a day to highlight a public health topic.
This year the focus of the World Health Day is on vector-borne diseases: a small bite can be a bit threat. You could think of Malaria. Unfortunately, I can't relate very much to this topic during my weeks in Sabinopolis, since I'm keeping myself busy with sexual health and lifestyle related health issues, including nutrition and hygiene. Besides, as far as I am concerned, there are not much vector-borne diseases in Sabinopolis. However, one thing I can say about vector-borne issues, is that the mosquito bites come in nightly attacks in Sabinopolis! My legs are extremely itchy because yesterday, a mosquito (or spider, not sure what the little animal actually was) occupied my room during the night.
Going back to the purpose of this writing, the World Health Day, I will highlight my own topic: Lifestyle and Health. I truly believe that lifestyle greatly determines the health of a person. With this I mean that I think that the way you treat your food and what you eat, the way you exercise (or don't exercise), the way you keep yourself and house clean, but also the way you make love and the way you 'treat' your mind determines your daily health. Health does not have to be 100%; when you are a diabetic like me you can never be 100% healthy. However, this doesn't mean that I have to feel unhealthy: I adapt myself to healthy ways that work for me, in order to be capable of doing almost everything.
Unfortunately in Brazil, health related to life style doesn't seem to be discussed a lot. I have come across different health issues such as diabetes, high cholesterol and blood pressure. When I talked to people with a high risk or having the disease already, they didn't have much clue about causes of such diseases and how to adapt to it. Here, in Sabinopolis, but also in more areas in Brazil, it is very important to be aware of this, since eating behavior might have to do a lot with it. For example, BBQ is a Brazilian tradition: you can buy lots of meat on many places on the street. It is common to eat multiple times a day a piece of meat. Although eating BBQ meat the whole day can be a very delicious treat, the fats and salts might increase blood pressure and cholesterol levels a lot. Another very common thing in Brazil is love for sweet stuff! Sugar is put in coffee, in juice, in bread… and the sodas like Guarana are consumed in liters per week. Sugar is a substance that your body is not really able to naturally digest. It will be saved as body fat, which could result in obesity and finally in Diabetes type 2.
Luckily, not all is bad, and it has been my mission amongst others to look at healthy lifestyle and what is already healthy in Sabinopolis (and the rest of Brazil). In this case, there is definitely one thing I can promote: the acaï berry from the Amazone! Since a few years it is a hype to make icecream from it, without cream or much sugar. Acaï is like a power food and therefore a good snack to keep your immunity system up!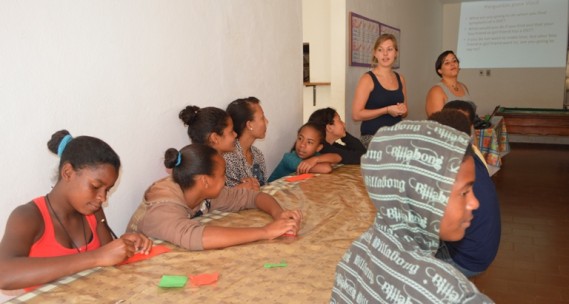 Another health concern, of which not much information seems to be shared, is sexual health. I am passionate about nutrition and eating behavior, but my work in Sabinopolis is more involved with sexual health, by giving classes about it to teens in high school and in the community centers. It is the first time I teach about it, but I love it! The teens in Sabinopolis are so smart and have interesting questions. Though, from the questions the teens ask in class I notice that there is not much known about biology and Sexually Transmitted Diseases (STDs).
I could write for hours, but unfortunately the story must be short. Therefore I will finish with sharing my personal mission in Sabinopolis. During my stay in Sabinopolis I am aiming for sharing practical and easy-to-adopt information and explain to people the 'why' behind health issues and solutions. I want to take the example of what is going well in families and individuals in Sabinopolis to show it to the challenged families and individuals in Sabinopolis. In this way, most of the healthy traditional ways are preserved and I want to combine it with new healthy ways.