Language Master & BEM: a successful partnership
                          There a lot of advantages of learning how to communicate in english. There is no discussion about the fact that english, for being one of the main languages in the global comunication opens the doors to contact with other cultures and because of that there is a lot of interest in companies and philantropic organizations for transcultural and international partnership. English is also an useful tool for the people that like to travel and meet other cultures. Through english communication, accessing other communities' habits becomes possible. Not even forgetting the access to information that is only available in english on the internet, including scientific publications etc. Furthermore, a person that is capable to speak english can get better jobs and salaries than a person with the same skills who doesn't speak the language. That and a lot more are the reasons why teaching english with a different focus on each age is happening now. The photo in this text presents some of the students on Language Master, and you can notice their future desires that can be accomplished by the progress in learning.
                           Thinking about all this advantages, BEM and Language Master had created this successful partnership that ensures all BEM's cooperators and their families a chance to learn english with a special discount. BEM is has nowadays partnership with churches, social institutions in Europe and in The United States, so as Chapin Baptist Church, World Servants, Tearfund and more others. On Language Master, BEM's cooperators will have the oportunity to learn english with MacMillans's Global English, a top quality material. Also count with the assistance to acquire visa for international travels and exchange for more than 50 countries. An great investiment for the cooperators life, this partnership will also mean improvement on projects development that help the communities where BEM is, to grow more and more. As it is already happening, this partnership can help with volunteers for english communication and helping the community where they live (picture of Dutch volunteers helping BEM and brazilian volunteers involved with translation).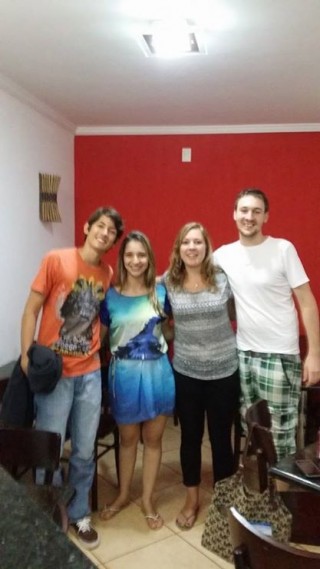 And even more is to come… One of the benefits of this partnership for BEM is the oportunity to count with volunteers for activities that need translation. After 2014 World Cup, Language Master will also be in Rio Vermelho – MG with classes. We're excited!